Select a Solatube Add-On Kit for a customised Solatube experience
Switch from natural to electric light
Light Add-On Kit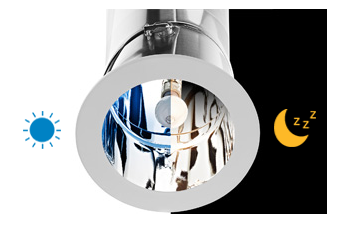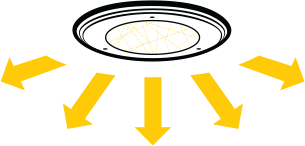 When the sun goes down, most people are awake for another three or four hours before going to bed. So you don't have to have a cluttered ceiling, Solatube skylights can be fitted with a light add-on kit. You can turn it on like you would a regular light once the sun has gone for the day.

Want to make your Solatube dual purpose?
Daylight meets nightlight
Solar NightLight
When you wake up in the middle of the night to run to the bathroom you have two options: turn the lights on, blinding yourself and waking up your partner, or you take the risk and walk with your arms outstretched trying to feel your way through the dark. But not when you have the Solatube skylight fitted with the Solar NightLight. Here, solar panels collect the sun's energy during the day and then at night subtly mimic the look and feel of moonlight with its LED bulbs. This means you can still find your way down your hallway without having to blind yourself, or trip over a misplaced toy in the middle of the night.

Customise your Solatube experience
Control the sun without drawing the curtains
Daylight Dimmers
When you sit down to watch a movie with the family you might not want as much light coming into your lounge or media room as you usually would. That's when you might want to consider the Solatube Daylight Dimmer. This looks like a normal switch that you would have on your wall, except that when you start to move the switch it controls a cover within your Solatube. This cover can almost fully close off the Solatube skylight so that you let in the amount of light you wish. You can use the dimmer to have as much, or as little, light as you like. This makes it perfect for media and games rooms, where you at times want lots of light, and at others you don't.